Ask Our Experts: What to Consider When Buying a Whole-Home Emergency Standby Generator
August 17, 2021 | 10:56 am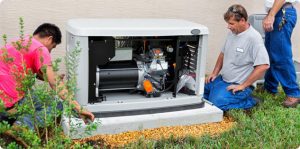 Question for Our Experts:
What should I consider when buying a whole-home emergency standby generator? I've learned about generators, and I'm interested. What are some key decisions I'll have to make before selecting a unit?
The Short Answer
There are many considerations to make when purchasing a standby generator for your home, including location, noise, capacity, physical size, fuel source, brand, and installation expectations. Most homeowner requirements and budgets can be accommodated within these seven factors – we're happy to help you find the right fit for your home and family!
The Detailed Answer
Great question! And congratulations on making a smart choice for your family by exploring standby generator options for your home. As the name implies, a "whole-home emergency standby generator," is potentially capable of powering your entire home (versus the handful of circuits that a portable generator might cover), is used during emergencies (like during a power outage) rather than 24/7, and is always on standby – meaning that it automatically turns on and off to seamlessly power your home when the utility power supply is cut off.
That being said, you're right – there are several key questions you'll need to settle before selecting the proper unit and system design for your unique circumstance. This question is best answered by breaking it down into several short components, which we examine here:
SEAMLESS FUNCTIONALITY. Most homeowners will admit that, while useful, portable generators are a hassle.  They require significant time, effort, and know-how to set up and operate if the power does go out.  Indeed, some homeowners might just have gotten a portable generator hooked up by the time the power comes back on!  Whole-home emergency standby generators eliminate much of this frustration.  First, they're hardwired into your home's existing electrical system – requiring virtually no installation or operation effort from the homeowner.  Second, they include sensors that monitor the power level being supplied by your utility company.  If the utility power goes out, your whole-home emergency standby generator will automatically turn on, quickly restoring power to your home.  Then, when the utility power is back up-and-running, your standby generator will automatically turn off.  In essence, your home never lost power and you never needed to lift a finger!
24/7 AVAILABILITY.  Portable generators can only be used when the homeowner is actually home, as it may not be safe to start a portable generator and then leave the home while it's running.  Whole-home emergency standby generators protect your home 24 / 7, even if you're asleep or away!  Many standby generator owners have come home to a cool building in the middle of summer, working refrigerators keeping their food frozen, and a garage door that actually opens – all after they'd been away for hours or days!
LOCATION. Whole-home emergency standby generators are located outside your home, ideally near both electric and natural gas connections that serve your home. If your home has a natural gas connection, but it is located on the opposite side of the house (as compared to your electric connection), the generator will most likely be located nearest your electric connection and natural gas piping will be run along the foundation of your home from the natural gas connection to the generator. If your home has no natural gas connection, alternative fuel sources may be available (see "Fuel Source" below), and their locations will be factored into consideration as well.  Other factors, such as existing landscaping, required safety clearances, and more may come into play as well.
NOISE. Modern generators are relatively quiet when operating. Of course, however, noise levels are relative and dependent upon operating efficiency, nearby structures, landscaping, and more. Most modern generators include sound insulation material that significantly mitigates the noise when the system is operating. For additional sound mitigation, you might consider planting shrubbery or doing other sound-dampening landscaping near the generator.
LIFE AND PROPERTY PROTECTION. Do you have a home security system?  An internet connection or landline telephone that relies upon a cable or DSL modem?  A sump pump that needs to run during storms to keep your basement dry?  Electronic medical equipment in the home?  Perhaps one or more of these systems include battery backups – but how many hours will they last?  What good is any of this equipment if it's rendered inoperable without power?  Whole-home emergency standby generators add another layer of protection to your life and property.  Never be caught off-guard!
SIZE/CAPACITY. Whole-home emergency standby generators come in all shapes and sizes and are generally rated by kWh. For example, two common sizes include 14 and 20 kWh units. Basically, however, the question you need to answer is, "What do I want or need to keep running when the power goes out?" If it's just a few lights and your refrigerator, a smaller generator may serve you well. If you're looking to keep your whole home running (i.e. all the lights, all your appliances, heating and air conditioning equipment, hot water heater, garage doors, electronics, and more), then you'll need a larger unit. Just keep in mind that, the larger (and more complex) your unit, the costlier your project will be. However, this investment may very well be worth it for your family's safety and security. Your Tuckey Mechanical sales team can help evaluate your needs, work with your budget, and recommend a unit that's sized appropriately for you.
PHYSICAL SIZE (FOOTPRINT). When thinking about installing a generator, some homeowners picture a huge, unsightly box outside their homes. However, today's generators sport sleek designs, and most fit within a 2 ' by 4 ' footprint (plus some clearance around each side for safety). All told, a standby generator can actually fit nicely into a landscaped yard – or even simply on a small slab beside your home or garage. Never thought "generator" and "curb appeal" would go together, would you? But that can indeed be the case!
BRAND. Tuckey Mechanical Services sells, installs, and services most major brand names, including GenerAC and Eaton. Some makes and models come with features that others don't offer (such as Smartphone-compatible controls and alerts). We'll work with you on your requirements and budget to recommend the model that makes the most sense for you.
FUEL SOURCE. Whole-home emergency standby generators require at least one of three potential sources of fuel: natural gas, propane, or diesel.  Most homeowners with natural gas connections available at their homes will find that natural gas-powered generators are often the most cost-effective and convenient setup for their scenario.  Propane is an acceptable alternative for most homeowners who do not have natural gas connections available on their properties. Some standby generators are diesel-powered; however, these are generally larger units that are designed for very large homes or office and industrial buildings.
INSTALLATION EXPECTATIONS. Many different things factor into installation projects, which means that some may be quick and easy, while others are longer and more complex. For an ideal job, consider a 2-day average installation time. Again, however, this may vary drastically depending on project specifics, including weather conditions, project complexity, unit size, and more. If you have any questions regarding installation expectations, be sure to speak with your Tuckey salesman or project manager – we're happy to answer any questions you might have.
MAINTENANCE. Though no two units are exactly the same, standby generators in general are remarkably low-maintenance pieces of equipment. We recommend at least one preventive maintenance visit per year by a trained electrician like those on the Tuckey Mechanical Services team.  We're happy to provide this service for our customers to ensure they're never caught off guard by a power outage!  Additionally, standby generator owners should ensure that leaves, snow, branches, and other debris are kept clear of the immediate vicinity around the generator – this ensures it can operate efficiently year-round.
The Bottom Line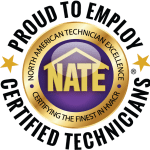 There are many considerations to make when purchasing a whole-home emergency standby generator, including location, noise, capacity, physical size, fuel source, brand, and installation expectations. Our team of professional electricians are happy to explore the appropriate options with you – just give us a call!
To learn more, visit our website at https://www.tuckey.com.  To request further program information, place a service call, or sign-up for a PM agreement, contact us at (717) 524-1136 or info@tuckey.com.
Article originally published on August 25, 2014. Content and graphics revised on August 17, 2021.
DISCLAIMER: This article is provided as a reference guide only. A qualified, professional contractor like the Tuckey Companies should handle all interior design, mechanical, electrical, plumbing, remodeling, metal fabrication, and restoration projects. Information presented here is of a general nature that may not be applicable in all situations. Tips, articles, and accompanying information do not represent an official recommendation of the Tuckey Companies.

All material Copyrighted (c) by the Tuckey Companies, 2023.