Home Maintenance Tips for the Summer Months
July 23, 2013 | 12:00 pm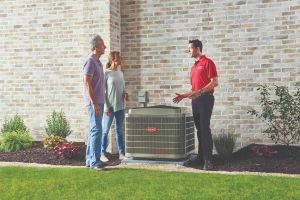 In South Central PA, you never know whether summer will bring beautiful sunshine or treacherous heat!  Either way, make sure your home is ready for whatever weather comes its way. Call Tuckey Mechanical Services today to schedule a tune-up for your home's cooling system – you'll be glad you did!  In the meantime, here are some helpful steps that you can take to prepare your home for summer:
Replace your furnace filter.
Clean the kitchen exhaust hood and air filter.
Check all electrical outlets for loose-fitting plugs and look for burn marks at the main electrical panel. Check all ground fault circuit interrupter-type outlets.
Repair all cracked, broken, or uneven driveways and walks for a level surface.
Make sure the light bulbs in all your fixtures are the correct wattage.
Consider installing a lightning-protection system on your home.
Protect electrical appliances from power surges by installing surge protectors.
Have a professional air-conditioning contractor inspect and maintain your system as recommended by the manufacturer.
Review your fire escape plan with your family.
Check for roof deterioration before summer thunderstorms begin.
Run through a severe-weather drill with your family.
Clean clothes dryer exhaust duct, damper, and space under the dryer.
Check the sump pump for proper operation. Consider installing a battery backup for the sump pump if you don't already have one.
Replace all extension cords that have become brittle or worn.
Inspect and clean the covers of smoke and carbon monoxide alarms.
To find out how the Tuckey Companies can assist you with any of these areas, e-mail info@tuckey.com or give us a call at (717) 689-4562.
Recommendations adapted from the State Farm Insurance Handbook.
DISCLAIMER: This article is provided as a reference guide only. A qualified, professional contractor like the Tuckey Companies should handle all interior design, mechanical, electrical, plumbing, remodeling, metal fabrication, and restoration projects. Information presented here is of a general nature that may not be applicable in all situations. Tips, articles, and accompanying information do not represent an official recommendation of the Tuckey Companies.

All material Copyrighted (c) by the Tuckey Companies, 2023.