Interior Design Q&A: What to do about "Too-Dark" Cabinetry
October 16, 2016 | 8:03 pm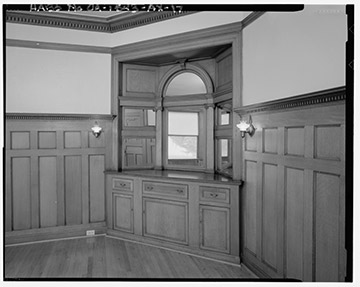 Question.
We recently painted Grandmothers' kitchen wedge wood blue/paper border. She has dark wood cabinets – and it is to dark for her. Help! Do we now paint the cabinets, or is there something you can put on the walls to lighten them?
Answer.
You may want to paint the walls a lighter color. Trying to just lighten the areas where there is not wallpaper might be an extremely difficult thing to do without repainting the area. For more information, contact Tuckey Restoration at 717-249-7052 or email info@tuckey.com.
******
(Picture By Dewey, William B. [Public domain], via Wikimedia Commons)
DISCLAIMER: This article is provided as a reference guide only. A qualified, professional contractor like the Tuckey Companies should handle all interior design, mechanical, electrical, plumbing, remodeling, metal fabrication, and restoration projects. Information presented here is of a general nature that may not be applicable in all situations. Tips, articles, and accompanying information do not represent an official recommendation of the Tuckey Companies.

All material Copyrighted (c) by the Tuckey Companies, 2023.