Interior Design Q&A: Appropriateness of Darker Cabinets
May 2, 2017 | 5:18 pm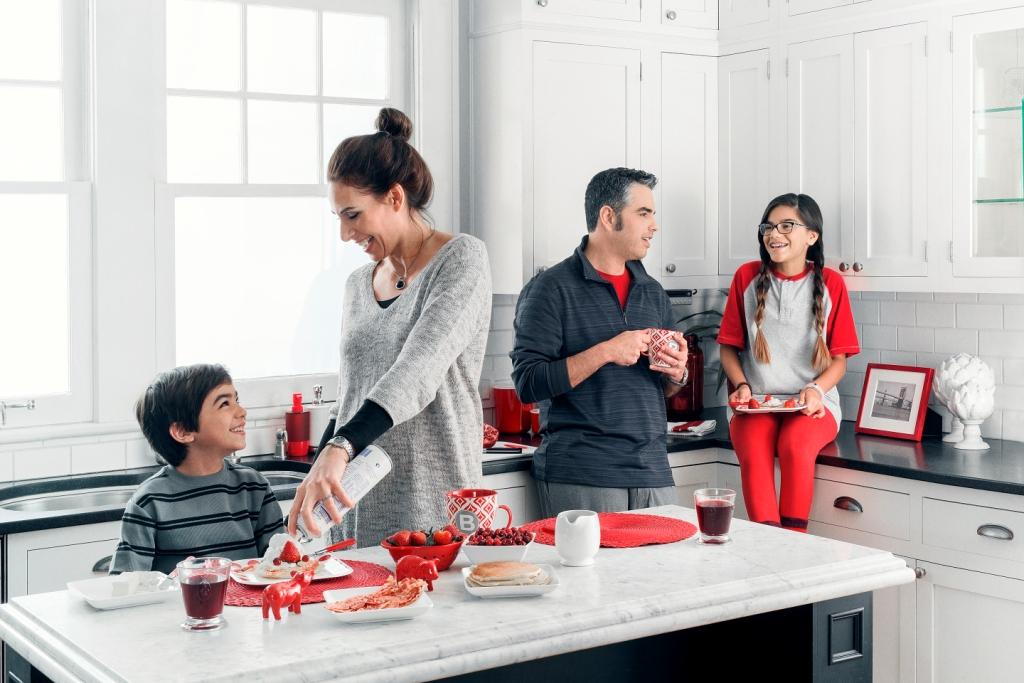 Question.
We just recently built a new home and I chose off-white cabinets in the kitchen – and I do not like them. They are too plain and stark (mission). I really liked a stained wood, but I got talked into these. I am seriously considering changing them and also the counter and peninsula. I have a u-shaped kitchen with stainless steel appliances. The wall color is Benjamin Moore 958 and the floor is Mirage yellow birch. The counter is "Pionite" Sage Coral. The kitchen/dinette is 17'x23′ with 9-foot ceilings and 5 2'/4′ windows with white trim & a door to the deck that has a full window. We have all off-white trim in the house and off-white pillars around the dining room and a country ledge stone fireplace with cherry stained cabinets. Would cherry stained cabinets be too dark or too much wood in the kitchen of this size? There is a wall dividing the kitchen and great room with an 8 foot opening to the kitchen. We have a built-in hutch and cabinets on the wall dividing the rooms. All of my furniture is dark cherry. How does a person decide if the room will be too dark when deciding on color for cabinets?
Answer.
Darker cabinets may work well if you like the looks of the dark cherry. There are not any rules about too much wood in a room, as the amount you want will depend on the look you enjoy. If you have plenty of light coming into the room and lighter colors on the walls, this will help to contrast against the dark cabinets and brighten up the room. The larger rooms can usually handle the darker cabinets better because they will not make the kitchen look too closed in. Another popular option is to mix woods, stains or paint finishes from the lower to upper cabinets or from wall cabinets to island cabinets. With all of your windows, the right treatments could be used to create some lightness and softness in the room as well. Check out our kitchen remodeling! For more information contact Tuckey Restoration at 717-249-7052 or info@tuckey.com.
******
(Picture By Bryant, a United Technologies Company.  Used with permission.)
DISCLAIMER: This article is provided as a reference guide only. A qualified, professional contractor like the Tuckey Companies should handle all interior design, mechanical, electrical, plumbing, remodeling, metal fabrication, and restoration projects. Information presented here is of a general nature that may not be applicable in all situations. Tips, articles, and accompanying information do not represent an official recommendation of the Tuckey Companies.

All material Copyrighted (c) by the Tuckey Companies, 2023.