The Tuckey Companies Announce Leadership Reorganization
December 30, 2013 | 7:05 pm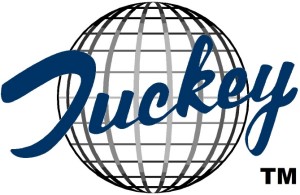 The Tuckey Companies, comprised of three distinct entities – Tuckey Mechanical Services, Inc., Tuckey Metal Fabricators, Inc., and Tuckey Restoration, Inc. – have announced a restructuring of their Leadership Team. Hope Coutts has been officially named the Operations Director, Nathan Tuckey has transitioned to the role of Corporate Systems Director, and Matt Tuckey has rejoined the organization as its Business Development Director.
Hope Coutts, employed at Tuckey since 1995, has served in a variety of capacities and progressive leadership roles throughout all three companies during her career. Her wide scope of corporate knowledge and industry experience positions her well to serve as the organization's Operations Director, focusing on enterprise-level construction and production management.
Nathan Tuckey joined the company in 2007 and has since completed his MBA from Liberty University specializing in Human Resource Development, along with degrees in Economics, Management Information Systems, and the Legal Environment of Business from Penn State University. As Corporate Systems Director, Nathan brings a unique global perspective to increasing organizational efficiencies and facilitating corporate growth, focusing on all aspects of Human Resources, Legal, and Finance, as well as Information Systems.
Matt Tuckey rejoins the company this month after spending the last decade working in various leadership positions in the nonprofit sector. Matt brings an MA from Eastern University and he will revisit the role of Business Development Director, a position in which he served for the companies from 2003-2006 as well. The position will balance a focus of internal team development with an emphasis on external relationship and market development.
The new leadership structure will continue to operate under the auspices of Company President, Kenneth Tuckey. "This structure aligns the strengths of these individuals with the current and future needs of the companies," stated Kenneth Tuckey. "This group will be well positioned to leverage the tremendous scope of professional skills and abilities represented throughout our entire team."
The companies, dating back to 1968, represent three generations of family involvement. Mr. Tuckey added, "We are blessed to have many of our immediate family members play prominent roles in the development of our companies. However, we are equally blessed to have been surrounded by a larger corporate family that represents a great group of leaders and staff members who have helped to get us to where we are today. Our history is rooted in our community relationships and this also is where our future lies. We are deeply appreciative to our friends and neighbors who have trusted us as their service provider over the years. We eagerly anticipate continuing to invest in those relationships."
Serving South Central Pennsylvania over the course of five decades, the Tuckey organization, headquartered in Carlisle, PA, is well-known throughout the greater Harrisburg, PA region as its "one-call" contractor due to an unprecedented scope of services. Tuckey Mechanical Services is well-known for its heating, air conditioning, electrical, and plumbing services; Tuckey Metal Fabricators for its custom metal fabrication, welding, and industrial plant maintenance services; and Tuckey Restoration for its high-quality remodeling, new construction, disaster cleanup and restoration services after fire, wind, water, or storm damage. Collectively, the Tuckey companies are uniquely positioned to provide turnkey solutions for all aspects of construction.
For more information on the Tuckey family of Companies, you may visit www.tuckey.com.
DISCLAIMER: This article is provided as a reference guide only. A qualified, professional contractor like the Tuckey Companies should handle all interior design, mechanical, electrical, plumbing, remodeling, metal fabrication, and restoration projects. Information presented here is of a general nature that may not be applicable in all situations. Tips, articles, and accompanying information do not represent an official recommendation of the Tuckey Companies.

All material Copyrighted (c) by the Tuckey Companies, 2023.