Tuckey Restoration Collaborates with International Experts
October 13, 2016 | 7:04 pm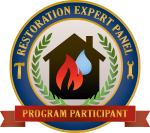 Partnership Leads to Unparalleled Access to Restoration Industry Expertise
Carlisle, PA – Tuckey Restoration, Inc. has emphasized their commitment to quality craftsmanship and fair business practices through an agreement with Restoration Expert Panel (REP). Aligning with REP gives Tuckey Restoration access to internationally recognized experts in a variety of subject matters specific to the restoration of property following water- or fire-related tragedies. These experts have made themselves available to support qualified restoration companies committed to development of the industry's skilled tradesmen.
"We are proud to support Tuckey Restoration in their efforts to competently deliver expert restoration services in return for a reasonable and customary price," said Ken Larsen, CR, WLS, CSDS, Senior Consultant for REP, adding "we intend to assist our Program Participants in achieving these goals."
About Tuckey Restoration, Inc.
Tuckey Restoration, Inc. provides emergency clean up, remediation, restoration, and reconstruction services after fire, water, or storm damage, as well general construction services. The company also offers industry-recognized expertise on air quality issues involving mold remediation, as well as concept development, project design services, facility maintenance, historic preservation, and new construction. Its sister companies, Tuckey Mechanical Services and Tuckey Metal Fabricators, Inc. offer complementary trades specialties, allowing for synergistic collaboration and a comprehensive set of services.  You can learn more about Tuckey Restoration and all of the Tuckey Companies at www.tuckey.com.
About Restoration Expert Panel
Restoration Expert Panel is the expert third-party consulting division of the International Dry Standard Organization, Inc. (IDSO), a Florida-based company dedicated to the mission of mentoring, documenting and representing restoration excellence. REP is comprised of the insurance restoration industry's most qualified subject matter experts, who work with restoration contractors to assist employees and educate outside entities they work with. To learn more about REP, please visit www.restorationexpertpanel.com.
DISCLAIMER: This article is provided as a reference guide only. A qualified, professional contractor like the Tuckey Companies should handle all interior design, mechanical, electrical, plumbing, remodeling, metal fabrication, and restoration projects. Information presented here is of a general nature that may not be applicable in all situations. Tips, articles, and accompanying information do not represent an official recommendation of the Tuckey Companies.

All material Copyrighted (c) by the Tuckey Companies, 2023.