Tuckey Restoration Hosts Microbial Risk Course
March 16, 2016 | 5:48 pm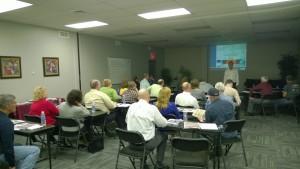 (CARLISLE, Penn. March 15, 2016) – Tuckey Restoration, a member company of DKI, North America's largest disaster restoration contracting organization, hosted a Microbial Risk Management course on March 1, 2016, at its corporate headquarters at 170 Stover Drive.
The CEC approved course was open to those involved in the structural restoration industry and included over 25 property and casualty insurance agents, environmental professionals, and facility managers from the healthcare, education, and non-profit sectors.
Ken Larsen CR, WLS, CSDS, director of education for the Restoration Leadership Institute taught the course, addressing the protocol and responsible approach to microbial contamination. Participants learned strategies to measure and control risk caused by bacteria commonly found in sewage backups.
Larsen currently delivers IICRC WRT, ASD, and CDS certificate courses and the RIA Certified Restorer (CR) certification, specializing in property damage restoration. He gives corporate and technical consulting related to all aspects of structural restoration.
***
About Tuckey Restoration, Inc.
Tuckey Restoration provides emergency clean up, remediation, restoration, and reconstruction services after fire, water, or storm damage, as well as general construction services. The company also offers industry-recognized expertise on air quality issues involving mold remediation, as well as concept development, project design services, facility maintenance, historic preservation, and new construction. You can learn more about Tuckey Restoration at www.tuckey.com.
About DKI
DKI, headquartered in Chicago, is the largest disaster restoration contracting organization in North America. DKI Franchise Member companies provide full-service restoration to their customers: emergency response, water damage mitigation, fire and contents cleaning, mold remediation, complete reconstruction and much more, 24 hours a day, 365 days a year. DKI returns damaged property to its pre-loss condition quickly and efficiently, delivering complete satisfaction to our consumer, insurance, and corporate customers. For more information about DKI, visit our website at www.dkiservices.com.
DISCLAIMER: This article is provided as a reference guide only. A qualified, professional contractor like the Tuckey Companies should handle all interior design, mechanical, electrical, plumbing, remodeling, metal fabrication, and restoration projects. Information presented here is of a general nature that may not be applicable in all situations. Tips, articles, and accompanying information do not represent an official recommendation of the Tuckey Companies.

All material Copyrighted (c) by the Tuckey Companies, 2023.