What Is Personal Property and Contents Restoration?
April 23, 2019 | 1:17 am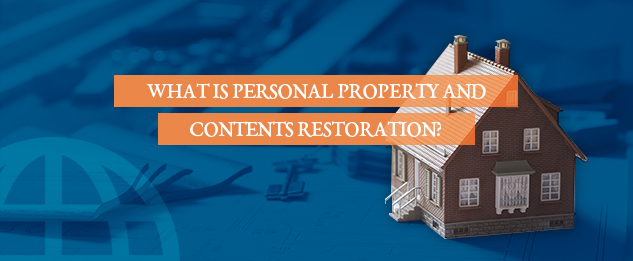 It doesn't take much to cause damage to personal property or a building's contents. In the case of a flood, a single inch of water can generate as much as $25,000 worth of damage. From 2012 to 2016, the average insurance claim from fire or lightning damage was more than $50,000.
Damage to your personal property or the contents of a building can cause your business and even your life to grind to a halt. Your business might have to shut down for a while until you have a chance to clean out the building and restore its contents. Or, perhaps you're unable to use your belongings or even access your house after a catastrophe such as a flood or fire. Fortunately, all is not lost, thanks to personal property and contents restoration.
The goal of personal property and contents restoration is to clean and repair items that might have suffered smoke, fire or water damage. Restoring and rehabilitating the things you own can often be less expensive than replacing them. Restoration allows you to retain precious personal possessions, such as family heirlooms or photographs, both of which are irreplaceable.
What Is Personal Property Restoration?
Personal property restoration services cover cleaning, repairing and restoring your belongings after a damaging event. To understand how the process works, it's worth learning about the differences between personal property and real property.
Real property refers to land and anything permanently attached to it, such as a home or other building. In contrast, personal property is any property that is movable and not fixed to land. The contents inside your home, such as your furniture, your clothing, and your mementos and heirlooms, are all personal property. In some cases, the house itself might be an example of personal property if it isn't firmly affixed to the land. Manufactured homes and "tiny homes" may be categorized as personal property, since they are movable.
Personal property restoration is a multistep process that begins after a fire, flood, storm or other incident that causes damage to your house and the belongings inside it.
After the incident, you will need to remove items from the house and either pack them up for storage or have them cleaned and restored. Some items are more challenging than others to remove, such as wall-to-wall carpeting. Such items will need to remain in the house and be cleaned on-site. The exact process of cleaning and restoring your belongings depends on the types of items.
Soft items, such as stuffed animals, clothing, curtains and other textiles, usually require cleaning, sanitizing and deodorization in order to remove mold, water damage and any lingering odors. Hard items, such as dishes, plates, electronics and furniture, require deep cleaning using specialized equipment.
What Is Contents Restoration?
Contents restoration is very similar to personal property restoration. The crucial difference between the two types of restoration service lies in whether the customer is a homeowner or a business owner. Personal property restoration is for homeowners and residential customers, while contents restoration serves business owners.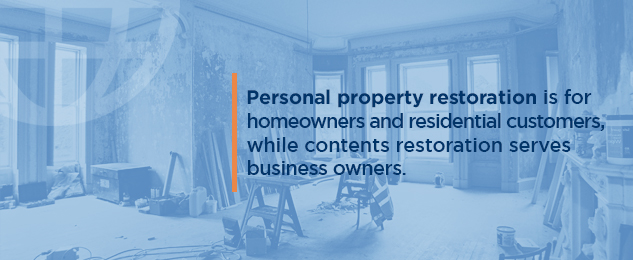 Disasters don't discriminate. Heavy rains and rising rivers can cause flood damage to offices and other commercial properties as well as to houses and residences. Between 2007 and 2011, there was an average of more than 3,300 fires in office buildings each year, causing around $112 million worth of damage.
Like the personal property restoration process, the contents restoration process comprises several steps. After securing the building or structure, the next step is to pack and move the contents of the building to a new location for restoration and storage. At this point, the restoration contractor will create an inventory list of the items that have been packed up and moved off-site.
The next stage in the contents restoration process is cleaning the items. The goal of cleaning is to remove any signs of smoke or water damage from your business possessions. Deodorization removes any unpleasant or lingering odors from items.
If water damage has led to mold growth, Tuckey Restoration, Inc., will perform mold remediation to properly address any signs of mold. The remediation will help prevent mold growth from occurring in the future.
Having cleaned each item and restored it to good or excellent condition, we can return the contents of your business or keep them in storage until you are ready for them.
What Can Be Restored After Damage?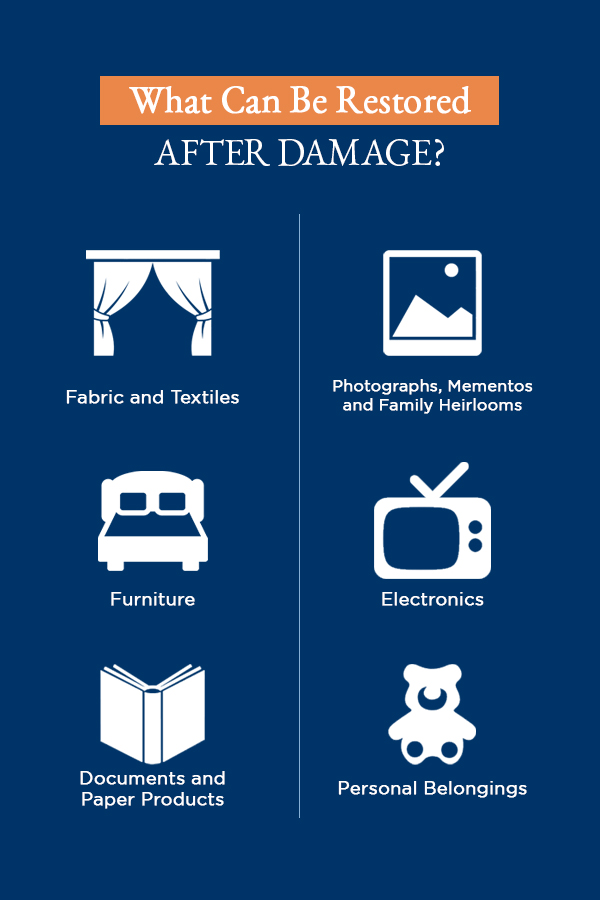 People are often surprised when they see the long list of items it's possible to restore after fire, smoke, water or other damage. Although personal property and contents restoration services can't restore everything, the list of possessions that may be restored is fairly long.
Fabric and Textiles
It's often possible to clean, sanitize and deodorize items made of soft materials such as fabric. Here's a sampling of restorable items.
Sheets and bed linens
Curtains
Rugs and carpeting
Clothing and shoes
Luggage, handbags and backpacks
Stuffed animals and pillows
Camping equipment and sports uniforms
Towels
Photographs, Mementos and Family Heirlooms
Although you may be able to replace many items in your home following a flood or fire, some things are irreplaceable. Many people wonder, "Can my memorable items be restored after damage?" or "Can my photographs be restored?" For the most part, it's possible to restore precious items such as your children's baby photos, your grandmother's antique clock, and other mementos after damage. Here's a list of mementos that can be restored:
Photographs
Porcelain dolls and figurines
Antique jewelry
China
Sculptures and statues
Paintings
Collectible items
Grandfather clocks
Kids' artwork
Furniture
The process of restoring furniture after flood, fire or other type of damage depends on the cause of the damage and the furniture's materials. It requires different methods of cleaning and repair to restore a couch than it does to rehabilitate a wooden table or metal cabinet.
Couches, loveseats and armchairs
Dining tables
Desks
Bookcases
Cabinetry
Beds
Nightstands and dressers
Antique furniture
Leather seating
Electronics
When water, smoke or fire damages a computer or TV, it isn't necessarily a lost cause. Deep-cleaning can restore many electronics, including those listed below, to good working order.
Laptops/computers
Televisions
Household appliances
Video game systems
Stereo systems
Printers and copiers
Fax machines
Telephones
Documents and Paper Products
You most likely have some critical paper documents at your home or in your place of business. Water damage can make your documents soggy, but doesn't have to destroy them.
Books
Tax records
Medical records
Manuscripts
Journals and notebooks
X-rays
Court and legal documents
Personal Belongings
At your home or place of business, there are many items that don't fall into the above categories but can still be restored rather than replaced after a disaster or other source of damage. Although the process of restoring items is on a case-by-case basis, you might be surprised to find it's possible to deep-clean many of the things you own and value to make them "almost like new" after water, smoke or fire damage.
Pots and pans
Plates, dishes and glassware
Decorative items
Toys
Sports equipment
The key to restoring items such as photographs and family heirlooms after a damaging event is to find a professional restoration contractor, Tuckey Restoration, that can provide comprehensive restoration services. Many contractors can repair the structure and interior of a home or building, but only full-service restoration contractors can restore the building and the items inside it.
When Might You Need Personal Property or Contents Restoration Services?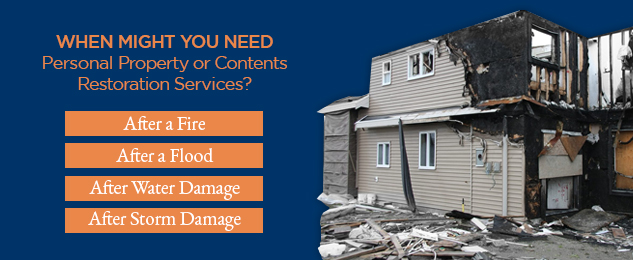 You might need personal property restoration or contents restoration services after a variety of incidents. Disasters that can cause property damage can be either human-made — such as a fire, a spill or a leak — or they can be natural, such as a severe storm, an earthquake or a tree falling on your property. If there is damage to the property inside your home or business building, it's a smart idea to call on a restoration company to find out what it can do to help you.
Why Do I Need Personal Property Coverage After a Fire?
In 2017, there were more than 1.3 million fires in the U.S. Of those fires, approximately 364,300 took place in residences, and 96,400 occurred in non-residential properties. The rest were outdoors or in vehicles. In 2017, fires caused around $23 billion in property damage. However, this figure is higher than in previous years — unusually extensive wildfires in 2017 accounted for $10 billion in damage.
If your home or building has experienced a fire and there is damage to items from either smoke or fire, a property restoration company can assess the damage and give you an idea of what is possible to restore and what you might need to replace. A restoration company can also evaluate the damage to the structure itself and give you an estimate for how long repairs will take.
Why Do I Need Personal Property Coverage After a Flood?
Floods are the most common type of natural disaster in the U.S. In recent years, flooding has hit South Central PA, including Dauphin County, particularly hard. If your home or business experiences flood damage, what you do depends in part on the extent of the destruction. You might need to stay out of your home or building until a building inspector gives you the all-clear, as floodwaters can weaken the structure and make it unstable.
Along with removing property from the building, a restoration company will dry out your home or building, either by physically removing water or by running dehumidifiers and fans. The sooner you bring in professional help after a flood, the lower the risk of significant and irreversible water and mold damage to your home, building and belongings.
Why Do I Need Personal Property Coverage After Water Damage?
Although floods may be one of the most recognizable causes of water damage to property, several other factors can contribute to or cause water damage, such as a leaking or burst pipe. If there is damage to the foundation of your home, water can seep into the basement after a heavy rain.
As soon as you notice water damage to a particular area of your house, it's a good idea to call a property restoration company. Tuckey Restoration can assess the damage, clear out items that need cleaning and restoration, and help you take steps to correct the source of the harm.
Why Do I Need Personal Property Coverage After Storm Damage?
You might need to call a restoration company for assistance after certain types of storms. A severe thunderstorm could cause a tree or large branch to fall on your home or property, or high winds could cause the windows on your home to shatter or break. If that occurs, contact Tuckey Restoration to have the damaged assessed and make plans for the restoration of any affected items.
Why Work With a Professional Restoration Contractor?
After your home or business has experienced damage caused by a natural or human-made disaster, you have a few options. You can replace all your belongings as you rebuild your home or office. Depending on the type of insurance policy and the coverage it offers, you might be able to replace everything you own.
Another option is to try to clean up and restore your home, building and property on your own. Doing so has risks, ranging from electrical hazards to exposure to infectious or toxic agents.
For many individuals and businesses, working with a professional restoration contractor is the way to go. A professional, full-service contractor will not only be able to remove your property and belongings from the site for cleaning and repair, but also will work on restoring the building or repairing any damage to the structure of your home. Instead of having to work with a handful of companies that might not communicate with each other, you can enjoy the ease of working with a single company that oversees and handles all your concerns and needs.
What to Do Right After a Disaster or Catastrophe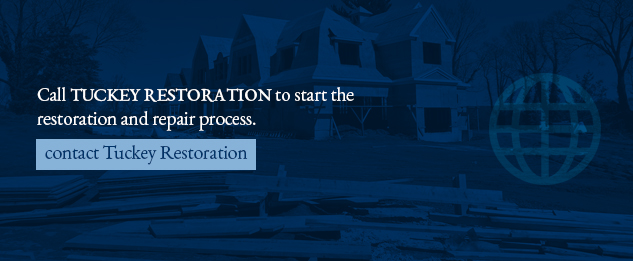 What you do immediately after a catastrophe will determine the final results of your restoration project. The first thing to do is move safely out of harm's way. If you're not sure whether your home or building is a safe structure following a flood, fire or other type of damage, head elsewhere. Next, you'll want to get in touch with the right people to start the insurance claims process and restoration process.
Who Do I Call After a Disaster Happens?
Call your insurance company and let them know what has happened. You may begin the process of filing a claim with the company at this point. Next, if you're in Cumberland County or anywhere in South Central PA, call Tuckey Restoration to start the restoration and repair process. Someone will visit your home or business to evaluate the damage, complete any needed emergency repairs, and provide you with a quote for any additional restoration or repair work.
Before restoration can begin, you, your insurance company and the restoration company will all need to agree on the estimate for the service and the scope of the work to perform. If you approve of everything, you can sign the contract and have the work begin.
When a disaster strikes, you want to know someone is there to help you work through it and rebuild your home or business. Tuckey Restoration works with individuals and companies throughout South Central PA, including in Harrisburg, Boiling Springs, Carlisle, Mechanicsburg, Newville, Shippensburg and many more, to help them make a fresh start after significant damage.
If you're worried a storm has damaged your precious family heirlooms or are looking for help cleaning out your office and getting your business back on track after a flood or fire, contact Tuckey Restoration today to find out how our restoration services can put your life or company back together.
Request Restoration Services
DISCLAIMER: This article is provided as a reference guide only. A qualified, professional contractor like the Tuckey Companies should handle all interior design, mechanical, electrical, plumbing, remodeling, metal fabrication, and restoration projects. Information presented here is of a general nature that may not be applicable in all situations. Tips, articles, and accompanying information do not represent an official recommendation of the Tuckey Companies.

All material Copyrighted (c) by the Tuckey Companies, 2023.